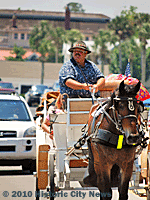 Historic City News reporters listened to Assistant City Attorney Carlos Mendoza last night as topics, including hygiene, city expenses, and horse carriage routes, were among elements weighed by the St. Augustine City Commission in a 1 1/2 hour workshop on a draft horse carriage ordinance.
Mendoza, point man on the effort, called on legal, financial, and public works officials to support elements in the draft ordinance, the second he's prepared after obtaining input from carriage businesses and a public forum.
Proposed is allowing a maximum of 25 carriage permits at $1,000 each, the $25,000 offsetting an estimated $22,000 a year in city costs for street repairs and cleaning after horse droppings and urine. An alternate is a 2 1/2 percent franchise fee on carriage business income, which Commissioner Leanna Freeman said would be cumbersome to audit.
A proposed new route for horse carriages, reversing the current direction, would take away the Kodak moments of horse carriages along the bayfront, but also eliminate bayfront hazard areas with four lanes of traffic.
Mendoza said city bed and breakfast businesses weighed in, and a "charter carriage" element was revised to allow carriages to go off route for pickups without prior notice to the city.
The workshop played out before a filled Alcazar Room — but there was no public comment as commission workshops are designed for commissioners to discuss city matters outside of the formality of regular meetings and in order to comply with Florida's Government in the Sunshine laws.
No official actions are taken at commission workshops.
Photo credits: © 2010 Historic City News staff photographer
Share your thoughts with our readers >>