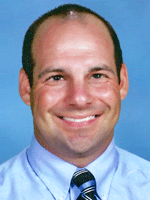 Cathedral Parish School told local Historic City News reporter that ehen the 2010-2011 school year opens in August, they will have a new principal at the helm.
Todd DeClemente will take over the post that has been held by Mrs. Janet Morton for the past five years.
DeClemente comes to Cathedral Parish School from Bishop John J. Snyder High School where he has served as Dean of Academics at the Jacksonville school since 2006. There he also served as English Department Chairman and taught Advanced Placement classes in Literature and Composition as well as World and American Literature. Prior to his time at Bishop Snyder High School, DeClemente taught at St. Paul's Catholic School in Jacksonville Beach where he served as literature teacher for the sixth through eighth grades.
The new principal earned a Master of Arts degree from Seton Hall University in May 2008 in the area of Educational Leadership, Management and Policy. DeClemente also holds Bachelor degrees in English and Philosophy from the University of North Florida. His wife, Kristen, is also a teacher at Annunciation Catholic School in Middleburg. They have a daughter, Isabella.
"It's an honor to have the chance to contribute to the rich history of Cathedral Parish School and the Sisters of St. Joseph," DeClemente remarked. "I'm looking forward to working with this incredible group of teachers and all the wonderful families of CPS. Together, we are going to do great things for our kids."
"Todd will bring with him a lot of energy and expertise," Fr. Tom Willis, pastor of the Cathedral Parish said. "He will be a great addition to the educational team that is already assembled at CPS and will further the school's mission to provide a faith-based, Catholic education in the St. Augustine community."
DeClemente replaces Janet Morton who is retiring after five years at CPS. Morton had previously served as principal of Christ the King Catholic School in Jacksonville.
Cathedral Parish School was founded in 1916 by the Cathedral Parish and the Sisters of St. Joseph. It presently has over 340 students in grades K-8. In 2007 it was recognized by the U.S. Department of Education as a "Blue Ribbon School of Excellence." The campus, located at 259 St. George Street in downtown St. Augustine, recently added a newly constructed kindergarten wing and renovated the school's original eight classrooms.
Share your thoughts with our readers >>