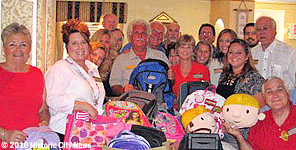 St. Johns County Chamber of Commerce President, Kirk Wendland, informed local Historic City News reporters that the Chamber Ambassadors program has completed another year and another successful community project.
Marty Lewis is ending his third term as Community Outreach Chair of the St. Johns County Chamber of Commerce Ambassadors. Lewis was in an audience of business people when Kathleen Bernard told how the thing most wanted by many foster children — is their own pillow.
Bernard is passionate about her work for the St. Johns County Health and Human Services Department as a guardian ad litem for foster children. "They need something of their own, something to hold on to," Bernard said. "Because they have nothing."
She said, "These kids, through no fault of their own, are separated from their families and sent, often for their own protection, to live with foster families."
Lewis approached Bernard and asked if the Ambassadors could help gather needed items for these children.
Bernard was thrilled and came to speak at an Ambassador meeting. The group agreed to help.
At the annual fiscal year-end gathering of the Ambassadors, all of the collected goods, ranging from tag-a-long suitcases and backpacks to the much valued pillows and clothing, were assembled in preparation to be delivered.
The following day incoming Ambassador Chair, Carly Saffer, delivered the goods; which were gladly received.
To join the Chamber or find out more about the Ambassador program call the Chamber at 829-5681.
Share your thoughts with our readers >>