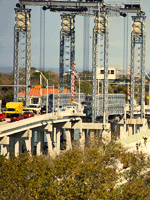 The Matanzas River channel is scheduled to be completely closed to all marine traffic from 8:00 a.m. this morning, Monday, March 29th, until 8:00 a.m. on Saturday, April 3rd.
This measure is being undertaken in order to accommodate removal of the temporary (old-new) bridge.
The new traffic pattern was announced to local news reporters today for the west approach into the city from the (new-old) Bridge of Lions.
According to notes from Cathy DuPont, at the intersection of Avenida Menendez, there will be two lane choices:
1 – right lane-right turn only
2 – left lane – straight or left turn only
Photo credit: © 2010 Historic City News staff photograph
Share your thoughts with our readers >>