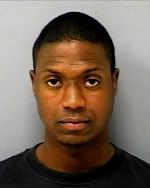 Community Affairs Officer Barbara Clifford of the St. Augustine Police Department reports to our local news desk that last week a 69 year-old woman became the victim of a purse snatching but the suspect was arrested — thanks to some alert citizens.
The victim was standing on the corner near Flagler College Auditorium about 3:25 p.m., when a black man later identified as 25 year-old Joseph Coefield Carey, came up beside her while riding a bicycle and snatch the purse off of her arm.
The victim was with a group of friends who started to give chase. The chain on Carey's bicycle broke, so, he continued to flee on foot; dropping the purse as he stumbled with the bike.
The citizens continued to chase Carey between houses, running through yards, at one point breaking a fence and running through a witness's yard. When Carey ran towards him, the witness reportedly hit Carey with a broom.
Another citizen who witnessed all the commotion was able to identify Carey and tell police where he lived. Police Commander Barry Fox was in the area and was flagged down by the group who was chasing Carey.
Police made contact with Carey, who lives at 76 Park Place in St. Augustine, and matched the description the victim gave them.
Both of the citizens identified Carey as the man they saw running through the yards. The victim also identified Carey as the man who snatched her purse.
Carey was taken into custody and booked in the St. Johns County Detention Center at 6:17 p.m. on February 11th, accused of robbery by sudden snatching; a third degree felony. After his first appearance hearing the following day, Carey was released from jail under $5,000 bond.
Share your thoughts with our readers >>