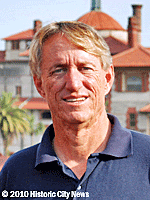 This morning, St. Augustine City Manager John Regan announced to Historic City News that a delegation's visit to Spain has been significantly trimmed in size and schedule.
What was originally announced as a two-week, four-city itinerary that included four city commissioners and three departmental directors has been revised to a simpler visit to fewer cities with fewer people over fewer days.
"Commissioners Crichlow and Freeman informed the city that they will not be traveling with the delegation," Regan said. "While city administration is still strongly committed to the purpose of this trip, it is clear that a portion of the city's constituency lacked support for the size of the delegation. A smaller delegation can travel more efficiently and be equally productive."
By having only one commissioner participate, by having less staff and by the length of the trip being shortened, the cost of the trip has been significantly reduced. Left intact is the city's regular representation at the Feast of San Agustín, held in late August in the sister city of Avilés. Governmental representatives from Avilés visit St. Augustine each February for the Menendez Gala as their part of the annual exchange visits.
The delegation now includes Vice Mayor Errol Jones, Regan and City Comptroller Mark Litzinger. Madrid was dropped from the itinerary and time spent in Cádiz has been reduced.
"The purpose for this trip has not changed," said Regan. "It is important to our community that the unique relationship between St. Augustine and Avilés be maintained and that these new opportunities with other Spanish cities continue."
In addition to Avilés, visits to the other two cities are key to the facilitation of other projects. The first is meetings with officials in Cádiz planning the bicentennial commemoration of its Constitution.
The St. Augustine connection to the event is through the Plaza de la Constitución and its namesake monument. While many Spanish colonial towns built such monuments to recognize the 1812 Constitution, the one in the Plaza is likely the only one remaining in a New World colony of Spain.
The other city on the itinerary, Malaga, has a connection through the St. Augustine Lighthouse and the Lighthouse Archeological Maritime Program (LAMP). That organization is collaborating with the Astilleros Nereo shipyard in Malaga on the reconstruction of the 18th century ship, the Galveztown, which will include over 13 tons of live oak provided by the City of St. Augustine.
The delegation and a representative of LAMP, will attend a ceremony at which the donation will be officially presented to the shipyard. When completed next year, one of the ship's initial stops in the Western Hemisphere will be St. Augustine.
Photo credits: © 2010 Historic City News staff photographer
Share your thoughts with our readers >>