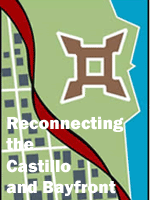 St. Augustine Public Information Coordinator Cathy DuPont informed local Historic City News reporters today that St. Augustine thrives on its historic features and yet the most important historic feature in the city is separated from the city itself by a four lane state highway.
Three quarters of a million people visit the Castillo de San Marcos National Monument each year — making it by far the most visited historic site, museum or attraction in the city. And yet, to get to the "fort", visitors must cross the four lanes of traffic on South Castillo Drive; but, efforts are under way to remedy that situation.
Making the approaches to this national monument easier, safer and simply more pedestrian-friendly is the goal of a study recently launched by the City of St. Augustine with funding through the Paul S. Sarbanes Transit in Parks, a grant program established by Congress to enhance the protection of national parks and federal lands, and thus increase and enhance the enjoyment of those visiting those sites.
The first step to re-developing the overall access to the Castillo is to collect input from the public, both the visitors who may be in St. Augustine for the first time, others who visit often, and residents who are in and through the downtown area every day.
That input is being collected through a brief and easy to complete survey offered at the Visitors Information Center and http://www.surveymonkey.com/s/ReconnectingCastilloAndBayfrontSurvey
"Whether you are a frequent or occasional visitor to St. Augustine's downtown, your input is valuable," DuPont said. "The survey will take just a few minutes, but the result from this project will last for generations to come."
Share your thoughts with our readers >>