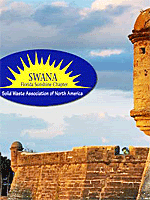 Local reporters with Historic City News learned that the Florida Chapter of the Solid Waste Association of North America held its annual Road-E-O at the St. Johns County Fairgrounds last week.
Three City of St. Augustine employees were recognized at the event. Solid Waste Division employees Bob Reardon came in second in the Rear Loader Event; Steve Wright came in third in the Front Loader Event; and Bill Budnick came in second in the Roll Off Event. All three pieces of equipment are used by the division in performance of their work.
Cathy DuPont, Public Information Coordinator for the Department of Public Affairs told Historic City News local reporters, "The city is striving for professionalism throughout our ranks."
The Road-E-O, which is held annually in different areas throughout Florida, was hosted this year by the City of St. Augustine.
"This was the first time in recent memory that the City of St. Augustine participated in and hosted the event," DuPont told Historic City News. "Approximately 130 persons attended many of whom stayed overnight Friday and Saturday evening and visited the historic downtown area."
The event consists of classroom testing as well as skill in handling equipment used by staff to perform their work with scores tallied at the end of the event and awards presented.
The event showcases the skills of the participants who are in the frontline of the profession of solid waste disposal. Participants were from as far away as the City of Clearwater, Escambia County and Clearwater.
Mike Gold, with the Solid Waste Division for the City of Largo and Chairman of the Road-e-o Event, reported the following 2010 SWANA Florida Chapter Road-E-O Winners:
HEAVY EQUIPMENT OPERATORS
FRONT END LOADER
James Bolling Polk County 1
Chris Hayes Escambia County 2
Harold Gravely Citrus County 3
DOZER
John Gilly Escambia County 1 TOP GUN
Eric Heath Citrus County 2
Sandra Martin Polk County 3
COMPACTOR
Ronald Pope Putnam County 1
Steve Dutton Escambia County 2
Glenn Barnett Polk County 3
TRUCK DRIVERS
REAR LOADER
Hurbert Hollis F.D.S. Disposal Inc. 1
Bob Reardon City of St. Augustine 2
Randy Higgins City of Clearwater 3
SIDE LOADER
Shawn Clark City of Largo 1
Clemon Ralph City of Tampa 2
Gary Kepner City of Clearwater 3
FRONT LOADER
James Mark City of Largo 1 TOP GUN
Mark Beery City of Clearwater 2
Steve Wright City of St. Augustine 3
ROLL OFF
Andy Henjes City of Largo 1
Bill Budnik City of St. Augustine 2
Jim Hawkins City of Clearwater 3
TRACTOR TRAILER
Andrew Wihr City of Clearwater 1
Jimmy Kersey City of Kissimmee 2
GRAPPLE
Jamie Hayes City of Largo 1
John Garakop City of Clearwater 2
Sean Mack Seaboard Waste Systems 3
MECHANICS
Dennis Rigby Escambia County 1 TOP GUN
Paul Dub City of Largo 2
Gary Gillespie Republic Services 3
Share your thoughts with our readers >>