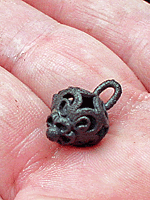 Melissa Dezendorf, City of St. Augustine Archaeology Research and Collections Assistant, told Historic City News that a silver doublet button was recovered during a recent investigation in the Plaza de la Constitucion.
The unexpected discovery dates from sometime between 1572 and 1600 according to the City Archaeology Division.
"The picture shows the doublet just after it appeared in the sorting screen," Dezendorf said. "It would have belonged to an elite gentleman."
Following guidelines decreed in the Spanish Royal Cedulas, the Plaza de la Constitucion was created in 1598 and sits at the heart of downtown St. Augustine.
It exists today as the oldest European landmark in North America.
A city-sponsored project, intended to re-route electrical lines for the Nights of Lights festivities, was subjected to archaeological testing by the Planning and Building Department prior to the installation of underground lines.
The most interesting portion of the excavations occurred just south of the Cathedral Basilica where the Archaeology Division uncovered the builders' trenches from two separate buildings, both dating to the late 1500's or early 1600's. Ceramic shards discovered in association with the trenches date to a similar time period.
These two wooden structures appear to have fronted what would become the Plaza and were previously unknown.
Photo credit: © 2010 Historic City News contributed photograph
Share your thoughts with our readers >>