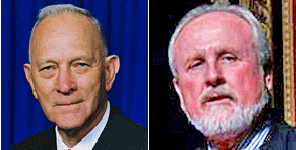 At their regular meeting last night, local St. Augustine news reporters from Historic City News were watching as City Commissioners called for an end to state legislation that gives the University of Florida management of 34 state-owned historic properties here.
Among other stumbling blocks, Mayor Joe Boles says, could be political opposition to such a plan by one of the existing program's big supporters — Dr. William Proctor. In addition to serving as State Representative for St. Johns County and District 20, Proctor also serves as Chancellor of Flagler College and is President and Chairman of St. Augustine Foundation, Inc.
The St. Augustine Foundation was established in 1962 by Lawrence Lewis Jr. as a philanthropic, non-profit organization dedicated to promoting and supporting studies, publications and research pertaining to the history of St. Augustine.
Boles admitted "there are difficult days ahead" getting the state legislature to sunset 2007 legislation giving the University of Florida management of the historic properties. "I believe Proctor does not believe the city should have long-term control of these properties," Boles said. "I believe he feels UF will be a more stable steward.
"But we've invited the 800-pound gorilla into our midst," he continued. "UF's Business Affairs Department stepped in, and they're not interested in some $27 million in repairs to the properties, but rather building a new $10 million visitor center they want to be the main entry for visitors."
Boles said $600,000 recently announced to be applied to UF plans "is not enough to move us along, and we're running out of time."
While Boles said the state and UF have failed to develop a plan for the state properties, Heritage Tourism Director Dana Ste. Claire, also executive director of the St. Augustine 450th Commemoration Commission, outlined a "new, contemporary, and exciting" city plan, and described improvements already under way, including greater visibility and improvements in the Spanish Quarter.
Chief Operations Officer John Regan added that an improved revenue stream can support bonding for greater improvements. Key is development of joint ticket sales with the Castillo, which annually attracts ten times the 50,000 visiting the Spanish Quarter. "And that can happen when we have a quality product that measures up to the military experience (of the Castillo)," he said.
Boles noted, "this community pulled together the money to build (the historic properties) for our 400th anniversary. We know best how to interpret our history. We need to control our own destiny."
On the heels of that, Vice Mayor Errol Jones won commission support for monthly public workshops to dialog plans for the 450th and heritage program. City Clerk Karen Rogers will canvas commissioners for the first workshop date available later this month.
Share your thoughts with our readers >>