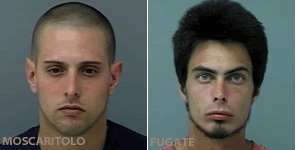 After police and reporters circulated the surveillance photo of the man who shot five times into the T-11 convenience store on San Marco Wednesday night, a clerk working in another store spotted a suspect matching the picture and notified the police when he left her store.
The witness gave police a description of the vehicle the suspect was driving and was able to report his direction of travel.
St. Augustine Police Officer Brian Frasca was on patrol at Poinciana Street and Ponce De Leon Boulevard when he saw the suspect vehicle pass him. Frasca was able to follow the vehicle to a residence on Prado Street.
While Frasca waited for back up, he witnessed two men exit the vehicle and go into the residence. Frasca recognized the passenger of the vehicle as the individual in the surveillance photos.
Once back up arrived, the passenger came out of the residence and attempted to get in the driver seat of the vehicle. The passenger was detained and identified as Joseph Moscaritolo II. Contact was also made with the driver, Justin M. Fugate, who was the renter of the house.
Fugate gave written consent for police to search the residence. Police found a short double barrel shotgun.
Fugate denied the weapon was his and stated he was just holding it for a friend.
Police also found multiple handguns, one which is believed to be the weapon used in the shooting.
Through use of a photo line-up, the victim was able to positively identify Moscaritolo as the man who attempted to steal the shirt and later shot into his store.
Moscaritolo told police that the clerk "disrespected him" and that he shot into the air three times in front of the store to scare the clerk. As Moscaritolo was running away, he fired two additional shots and went into the store. Moscaritolo says that he did not intend to hurt the victim.
Moscaritolo admitted that the weapons police found in Fugate's residence were his.
Police identified 5 bullet holes in the store window, not two as Moscaritolo said, and, the shots were in a tight grouping; therefore Moscaritolo was charged with attempted homicide, aggravated assault, and shoplifting.
Fugate admitted that Moscaritolo told him that he "might have shot the clerk". So, he allowed Moscaritolo to stay at his residence and hide the weapons there.
Fugate was arrested and charged with attempted homicide, accessory after the fact and possession of the short barrel shot gun.
Share your thoughts with our readers >>