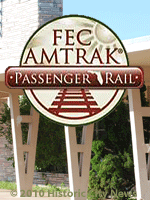 Kim DeLaney, who is Growth Management Coordinator for the Treasure Coast Regional Planning Council, told Historic City News reporters that the Amtrak-FEC Coalition has been working overtime to get the wrinkles worked out of their plan to restore passenger service on Florida East Coast Railway tracks that haven't been used for that purpose in well over 40 years.
In last week's public workshop, DeLaney told participants that the former Driver's License office, which was originally an FEC train station, has all the elements needed to become an Amtrak passenger rail station. The rail strikes which began in 1963 and dragged on for nine years put an end to passenger service for St. Augustine in 1968.
"Built in the 1960's, it's the best of three existing stations along the proposed route," DeLaney said. "The others, at Cocoa, built in the 1950's, and Titusville, in the 1920's, need work."
The required development period for the Jacksonville to Miami project is only three years. Building the new Carrera Street station from scratch would jeopardize the entire project, despite a strong push by some city leaders to develop that location.
Delaney said the application for federal stimulus funding, due by month's end, "has to show a shovel-ready project, with funding in September or October, and ability to complete the entire project within three years."
"There's a 4,000 square foot building in pretty good shape, additional necessary track, lots of area, even the potential for additional businesses," DeLaney said of the location near the intersection of US-1 and San Marco Avenue.
This former Florida East Coast rail station would be one of two staffed "destination" stations on the 329-mile route from Jacksonville to Miami "because of the volume of tourists and overnight business," she said. The other, at Cape Canaveral, would serve the large volume of cruise line traffic.
Photo credits: © 2010 Historic City News staff photographer
Share your thoughts with our readers >>