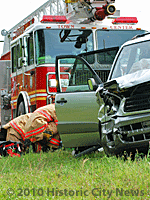 While EMT Firefighters and Paramedics worked to stabilize and transport victims of a major two vehicle head-on collision on US-1 north of Bunnell shortly after 5:00 p.m. this evening, Historic City News local reporters were working to discover what happened in the collision.
According to a family friend at the accident, 30 year-old Mary Costantion Steen, who resides on Bolling Lane in Palm Coast, was driving north on US-1 when her silver Toyota was struck, head-on, by another vehicle attempting to cross the highway.
Steen's 20 month-old son, Logan, was in the car with her; he was secured in a car seat.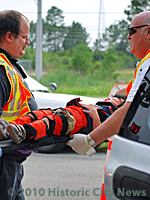 The out-of-state driver of the second vehicle, a white Suzuki XL7, was crossing in front of traffic onto Royal Palms Parkway. Major damage was sustained to the front end of the vehicle, however, the airbag deployed and the driver was able to be quickly transported by Rescue to Florida Hospital Flagler on SR-100 in Palm Coast.
Steen and her young son were transported by Palm Coast Fire Rescue before the scene was cleared. Traffic was backed up on Royal Palms Parkway and northbound on US-1 for about an hour as Flagler County Sheriff's deputies and officers with the Bunnell Police Department and Florida Highway Patrol each assisted as needed in redirecting vehicles around the collision.
In what could have easily been a fatal collision for passengers in both automobiles, no injuries appeared to be life threatening.
Other than a single stop sign posted on Royal Palms Parkway, there are no traffic control devices and only one poorly positioned streetlight at this major intersection — one that will soon support all eastbound traffic headed to Town Center.
A witness to the accident commented that he was not surprised. "You can't easily judge the distance of northbound cars at that intersection," he told us. "I just hope nobody has to be killed here before they do something."
FHP Trooper Tipton is in charge of the investigation of the motor vehicle accident; his report is not yet complete. It is unknown if alcohol or speed played a role in this accident and it has not yet been confirmed that the drivers were wearing their seatbelts.
Photo credits: © 2010 Historic City News photographer Kerry McGuire
Share your thoughts with our readers >>