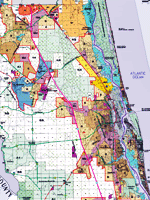 On Tuesday, August 17, 2010, at the next regular meeting of the Board of County Commissioners, Historic City News will watch as the 2025 Comprehensive Plan is presented for approval.
The 2025 Plan was prepared in-house and includes updates required by the Florida Growth Management Law.
After the 2025 Plan is adopted, it will be transmitted to the Florida Department of Community Affairs for a compliance review.
It is anticipated the 2025 Plan will be found in compliance with the Florida Growth Management Law and will become effective in November.
For additional information on the 2025 Comprehensive Plan Update and other comprehensive plan amendments under review, please contact Teresa Bishop, Long Range Planning Director, at (904) 209-0581.
Share your thoughts with our readers >>