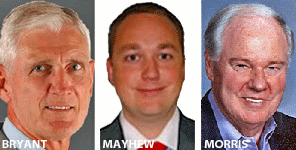 The Republican Club of Greater St. Augustine reported to Historic City News that this month's regular meeting will be held in the Special Events Building on the Northeast Florida Regional Airport at St. Augustine, located at 4730 Casa Cola Way.
The meeting will be Monday, June 14th, starting with a social and refreshments at 6:30 p.m.
After a brief business meeting which begins at 7:00 p.m., the three announced Republican candidates for St. Johns County Commission, District Four, will have an opportunity to introduce themselves and answer questions from the Executive Board. The Primary Election will be held on August 24, 2010.
The guest speakers will be:
* James E. Bryant, Vilano Beach.
* Joseph Alan Mayhew, Ponte Vedra Beach.
* John (Jay) H. Morris, Ponte Vedra Beach.
All registered Republicans are welcome to attend and new member applications will be available.
Photo credit: © 2010 Historic City News staff photographer
Share your thoughts with our readers >>