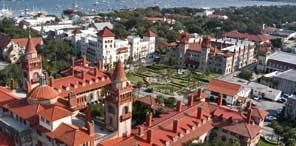 The Flagler College Public Administration Program will host a one-day conference for public administration professionals on this Friday, February 26th, according to an announcement received at the local St. Augustine news desk from Priscilla Proctor; Coordinator of College and Public Relations.
This year's conference will be held in the Virginia Room of the Ringhaver Student Center at Flagler College. The theme of the conference is "Looking Ahead, Moving Forward."
The purpose of the conference is to bring together public administration professionals to discuss the common challenges and best practices in local government in Northeast Florida.
The conference will feature panel discussions and presentations by policymakers, city and county managers and senior executives from across the region. Some of the topics to be discussed are "Current Challenges & Best Practices in Local Government," "The Future of Financing Local Government in Florida," and "Healthy Employees: Innovative Solutions for the Public Sector Workforce."
The keynote speaker for this event will be Palatka Mayor Karl Flagg.
Mike Patterson, chief of fire and emergency medical services for Putnam County Government and a member of the planning committee, said, "One of the best things that we can do for our taxpayers is to pool our shared experiences to examine common challenges and identify best practices. The knowledge we share and acquire from this event can directly translate into more effective programs and efficient services provided to our citizens."
Corporate partners for this event are Cardiac Science, Sprint, Emergency Training Concepts, JB Coxwell Contracting, Inc., Coxwell Disaster Recovery Services and The Bailey Group.
The conference will begin at 8:45 a.m. and conclude at 3:50 p.m.
For more information on this event, please contact Dr. Joe Saviak at (904) 819-6234.
Share your thoughts with our readers >>