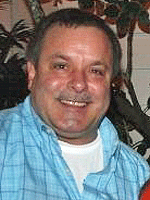 Confessions of a Foodie
Using Facebook, foods, and food events to help charities and promote the "Taste of St. Augustine"
by Deane Newsome
While using creative processes in coming up with our introductory article, I thought it best to introduce ourselves to the community.
Foodies Unanimous is a group page on the internet social media site Facebook.com, and is a group of 200 food enthusiasts who have "joined" the page in reading and posting of food related articles, recipes, links, pictures, or comments on the page that actually reads like an electronic food magazine, with no subscriptions.
Here's the latest recipe posted on our page for a delicious meatloaf:
Technique: 3 pounds (80/20 ground beef), 1/2 cup diced onions, 1/2 cup seasoned/Italian bread crumbs, 1/4 cup instant potatoes, 2 eggs, black pepper, 1/4 cup milk. Combine by kneading the mixture of all ingredients until thoroughly mixed. Flatten loaf to 1…/4 inch thick, then pour 1/2 cup picante sauce over whole flattened area. Ahead of time, par-boil 3 bell peppers (tri-colored) till translucent, let cool, and then lay flat panels of peppers through out the loaf. Roll whole loaf into a "jelly roll" and form your loaf. Bake on 375 degrees for about an hour. Viola! Yummy dinner.
Our Foodies Unanimous page/group concept was created by myself, with the help of 6 other contributing officers of the group and we all strive to keep the page informational and topical, and actually rivals other more well established pages of this type.
Projects the group are involved in thus far are a "Meatloaf Throw-down Show-down" Cook-Off event to benefit the American Cancer Society, a food concessions project to help the Homeless Coalition of St. Johns County, and much more planned public events are in the works as well including bringing back a long missed festival type event for August of 2011. We're not going to say much more on this one, as it's top secret! Let's see if we can "stir up" some buzz on that one!
Our Foodies group recently was also able to gather up a donation of 10 boxes of pantry type foods and supplies given to the St. Francis House to help our city's homeless.
We'd like to get you involved in sharing the joys of food and get you involved in our community food events. If you're a member of Facebook, you can go to our link, join us and check out our page:
http://tinyurl.com/http-foodiesu-com
Deane Newsome, President of Dean Productions, is a life-long resident of St. Augustine, Florida; a graduate of St. Augustine High School, proud father of 2 daughters aged 8 & 12, a former Public Relations Manager, Radio & Club Disc-Jockey, Steakhouse Restaurant Manager, and is currently a Social Media Manager, active blogger, and presenter/demonstrator of new foods and products for manufacturers through a major marketing company.

Newsome is also a proud Past President of the St. Augustine Jaycees organizing charitable community projects such as the St. Augustine Jaycees Charity Walk-A-Thon, Jaycees Haunted House, Jaycees Jerry Lewis Labor Day Telethon and many more community activities including all offices of the St. Augustine Jaycees, and at the state level with the Florida Jaycees as District Director. Newsome has garnered many prestigious awards in his civic duties such as Jaycees Project of the Quarter, Project of the Year, and Jaycee of the Year.

Newsome's private philosophy: "Service to humanity is the best work of life", and is a self proclaimed "Food Guru" in St. Augustine. Newsome can be reached at jdnews01@yahoo.com
Share your thoughts with our readers >>