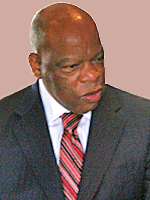 Gwendolyn Duncan, President of the 40th ACCORD, Inc., told local Historic City News reporters that U.S. Congressman John Lewis will serve as the Keynote Speaker at the 4th Annual ACCORD Northrop Grumman Freedom Trail Luncheon on July 2, 2010.
The annual Luncheon, which will be held at the Casa Monica Hotel, is a fundraiser which supports the organizational efforts to maintain the ACCORD Freedom Trail and its ongoing projects.
In addition, the organization will honor the heroes of the civil rights movement; marking the 46th anniversary of the signing of the landmark Civil Rights Act of 1964. The second Dr. Robert B. Hayling Award of Valor will be presented by Florida State Senator Tony Hill to a deserving demonstrator who participated in the movement in St. Augustine.
The annual event aligns with the mission of ACCORD — to remember, recognize, and honor individuals who risked their lives to attain civil rights for all and celebrating St. Augustine's pivotal role in the passage of the Civil Rights Act of 1964.
The public is invited to attend the dedication of a Freedom Trail Marker to be unveiled at the St. Johns County Jail Annex at 9:15 a.m. that day.
Congressman Lewis is the recipient of numerous awards from imminent national and international institutions, including the Lincoln Medal from the historic Ford's Theatre, the Golden Plate Award given by the Academy of Excellence, the Preservation Hero award given by the National Trust for Historic Preservation, the Martin Luther King, Jr. Non-Violent Peace Prize, the President's Medal of Georgetown University, the NAACP Spingarn Medal, and Lewis holds the distinction of being the only John F. Kennedy "Profile in Courage Award" recipient ever granted by the John F. Kennedy Library Foundation for his lifetime achievements.
As a student at Fisk University, John Lewis organized sit-in demonstrations at segregated lunch counters in Nashville, Tennessee. In 1961, he volunteered to participate in the Freedom Rides, which challenged segregation at interstate bus terminals across the South.
Congressman Lewis risked his life on those rides by simply sitting in seats reserved for white patrons. He was beaten severely by angry mobs and arrested by police for challenging the injustice of Jim Crow segregation in the South.
By 1963, he was dubbed one of the "Big Six" leaders of the Civil Rights Movement along with Whitney Young, A. Phillip Randolph, Martin Luther King Jr., James Farmer and Roy Wilkins. Congressman Lewis was an architect and keynote speaker at the historic "March on Washington" in August 1963 when he was only 23 years-old.
Share your thoughts with our readers >>