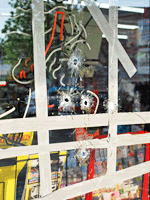 Local Historic City News reporters continue to follow a police investigation into five pistol shots fired last night through the glass storefront of a local convenience store.
A clerk working at the T-11 Store located at 52 San Marco Avenue was apparently the intended victim of the firearm assault after he exposed a shoplifting attempt by the chief suspect at about 5:30 yesterday evening.
The would-be shoplifter returned to the store after being caught with a t-shirt concealed under his clothes. He exchanged heated words with the clerk and revealed that he was carrying a handgun in his waistband.
The shots came shortly before 10:00 last night, according to St. Augustine Police Commander Barry Fox.
Police patrol officers were unable to locate a suspect last night using the description provided by the victim and surveillance video images that have been released to the media.
When Historic City News reporters went to the scene this morning, we found five large holes and shattered glass that was being held in place by duct tape. The obvious gunshots were all at upper-chest and head height.
Fortunately, the clerk received no life-threatening injuries. The victim was shot in the hand by the gunfire and the injuries are thought to be minor.
A witness observed an individual running from the front of the store as the shots were being fired. The suspect was observed wearing a red hat, red shirt and black shorts, and was seen getting into a newer model red four-door sedan as he fled the area at a high rate of speed.
If you have any information about this crime, please contact SAPD Detective Castaing at 209-3486 or contact the Anonymous Crime Tip Hotline at 209-3482.
Share your thoughts with our readers >>