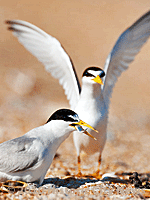 St. Johns County beach officials told local reporters with Historic City News that they anticipate the impact of Hurricane Earl to be gone from the area by Saturday, leaving calmer water for the Labor Day weekend.
Other storm activity in the Atlantic is not close enough to impact northeast Florida beaches. As always, swimmers and surfers are encouraged to not be alone in the water and to stay near a lifeguard.
In other beach news, Porpoise Point is now reopened to vehicular traffic.
Officials wish to thank the public for their cooperation during the temporary closure. Porpoise Point was home this year to 50 Least Tern nests with more than 20 successful flight-capable chicks, as well as eight Wilson's Plover nests with seven flight-capable chicks.
The sea turtle nesting season has also been incredibly active throughout St. Johns County this year. A total of 896 nests have been recorded, mostly loggerhead with some green and a few leatherback. Of those, 371 nests have successfully hatched.
Photo credits: © 2010 Historic City News contributed photograph by Dave Macri
Share your thoughts with our readers >>