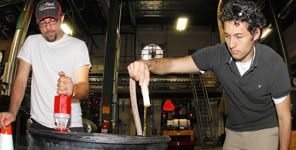 Of the 175,000 gallons of diesel fuel the county consumes each year, the Public Works Department is now capable of producing over 35,000 gallons of biodiesel fuel, approximately 20 percent, through a process that recycles waste vegetable oil.
Benefits of the biodiesel program include reduced fuel costs for the County, as well as significant reductions in local sewage overflows due to less commercial disposal of fats, oils and grease.
The St. Johns County Public Works Department was awarded the environmental stewardship award for excellence by the Northeast Florida Regional Council for its biodiesel fuel program on February 24, 2010.
In 2005, St. Johns County initiated a project to process recycled waste vegetable oil into biodiesel fuel for use in County equipment. Within one year, the first small quantities of biodiesel had been produced and successfully tested in select equipment. The potential for savings in fuel cost, and for positive environmental impacts, appeared substantial.
The County Commission approved and funded a plan in 2006 to collect donated recycled waste vegetable oil from residents, businesses and others, and then process it into biodiesel fuel. The biodiesel would then be blended with regular petroleum diesel and used in all County diesel vehicles and equipment.
The pilot project soon demonstrated that, while the basic process of producing biodiesel from waste vegetable oil is relatively simple, doing so in a manner that met industry quality standards was difficult.
No precedent had been documented to date. After much work by County staff, in 2009 St. Johns County was able to consistently produce quality and compliant biodiesel from recycled waste vegetable oil.
Share your thoughts with our readers >>