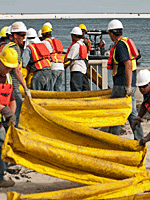 St. Johns County spokesman Rob Weber tells Historic City News local reporters that the County is monitoring events related to the Gulf of Mexico oil spill and that they see no immediate threat to St. Johns County and its coastline.
"We do not anticipate any affects from the oil spill, but are closely monitoring the situation through daily conference calls with the State of Florida," Weber said. "Essential St. Johns County Officials have met and are discussing planning considerations for any improbable impacts to the County."
For the most up to date information regarding the gulf oil spill due to the collapse of the Deepwater Horizon Platform, please contact the Florida Emergency Information Line at 1-800-342-3557. You can also find up to date information on http://www.doi.gov/deepwaterhorizon/index.cfm
Although St. Johns County is not requesting volunteers at this time, if you would like to volunteer in the affected areas of the gulf coast, please contact Volunteer Florida at 1-866-448-5816.
Photo credit: © 2010 Historic City News contributed photograph
Additional information:
Provided by Albert Blok
Clinical Research Coordinator
American Educational Research Association
Share your thoughts with our readers >>