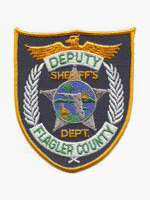 Public Information Officer Debra Johnson told local St. Johns County reporters with Historic City News that deputies in Flagler County are investigating a "skimming device" that was discovered at a business on State Road 100 in Palm Coast earlier this week.
"Consumers need to be vigilant whenever they use their cards to ensure their personal information is protected," said Flagler County Sheriff Donald W. Fleming.
Consumers should consider trying to avoid swiping their cards at outside gas pumps and ATM machines. Consumers should pay inside the stores and go inside their financial institutions rather than using outdoor facilities.
This type of consumer fraud uses high tech methods to steal needed information to duplicate account information. The method is known as "skimming" where thieves will place a device inside the card slot on gas pumps or an automated teller machine. When the consumer swipes their card, all their personal information is captured on the "skimming" device which is later removed by the thieves.
The information is downloaded onto a blank credit card, complete with the PIN number, which may then be used to purchase items or draw out cash from the unsuspecting consumer's account.
Merchants are encouraged to check their card scanners periodically for these devices.
Anyone with information on this incident is asked to contact the Flagler County Sheriff's Office at (386) 313-4911 or Crimestoppers at 1-888-277-TIPS (8477).
Share your thoughts with our readers >>