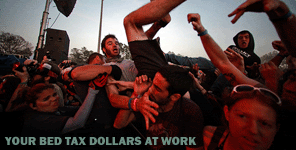 CRN: Harvest of Hope Festival – 2010
By Randy Covington
Conservative Research Network
http://conservative-research.org/
You would think, someone would think twice before embarking on producing a follow up event to the 2009 Harvest of Hope Fest. But you would be wrong. The Saint Johns Cultural Council, who reviews applications and recommends events for grants to the TDC Category II Funding Panel, once again recommended the Harvest of Hope Festival be awarded $ 50,000 for 2010.
From the "Funding Panel Cat 2 FY2010 "Application Recommendations" the 2010 Grant was noted as "1/2 for ad only". TDC Executive Director Glenn Hastings has indicated that, many times, grants are awarded only for advertising — and not production costs. The final amount paid by St. Johns County for this line item was $ 32,527.84.
It seems clear from these examples that there is a real disconnect in the way Special Events is spending these Category II monies and what the statutes indicate they are restricted to.
Specifically, FS 125.0104 says these funds shall be used to:
Promote and advertise tourism in the State of Florida and nationally and internationally; however, if tax revenues are expended for an activity, service, venue, or event, the activity, service, venue, or event shall have as one of its main purposes the attraction of tourists as evidenced by the promotion of the activity, service, venue, or event to tourists.
Does anyone else see a "disconnect" here?
It is fairly clear that half or more of the attendees for this event are from a close radius. The advertising for this event was mainly on alternative radio stations and on the internet. Most of the tickets were sold in a 150 mile radius of this county. The location and nature of this event does not appear to have been targeted at the most lucrative demographic of tourists known.
Disney World has no "punk rock" venues. Do you think that is an error on their part?
Additionally, is anyone curious as to why the grants were listed by the Category II funding Panel as $ 50,000 in each year — but additional TDC funds were expended?
Did the Commission authorize the increase in funding? How many other, potentially more lucrative investments did we miss for those bed tax dollars because the money was wasted on these events?
Why is there no accountability in the Special Events Division? Are they immune from performance standards in St. Johns County?
When will Commissioner Sanchez stop championing the waste of Tax dollars? Is this why Commissioner Sanchez decided to ram through a 33% increase in the bed tax and is attempting to create a super (non-accountable) agency to speed up the waste of tax dollars?
There is a long list of very disturbing questions associated with these two events, not the least of which has to be – Why Commissioner Sanchez, do you value the waste of taxpayer funds on such frivolous and questionable investments of tax resources?
See the closing statement from the 2010 Harvest of Hope Fest.
Next – Part 2, The Southern Exposure Heritage Festival, no, sadly, this is not an isolated event.
Conservative Research Network focuses on commentary and articles on local, state and federal government issues revolving around government waste, policy and function. They are conservatives focused on returning conservative principles to the Republican Party, accountability to government and power to the people to which it is reserved under the Constitution of the United States. The ideas expressed are those of the writer and are independent of those of Historic City News.
Share your thoughts with our readers >>