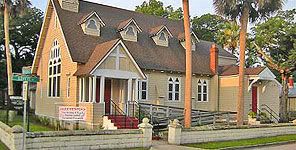 Historic City News readers are invited to view the 70 piece body of work by Taylor and Carnes, entitled "Welcome to Lincolnville" which will be on exhibit at The Cyprian Center for Expressive Arts at St. Cyprian's Episcopal Church from October 1st through October 24th.
The artists will also be in attendance at St. Cyprian's for the Art Walk on Friday, October 1st. St. Cyprian's is located at 37 Lovett Street, St. Augustine.
Standing on the sultry tree-lined sidewalks of modern day Lincolnville, it is difficult to imagine this sleepy St Augustine neighborhood as a focal point of nationwide racial and political unrest during the Civil Rights Movement.
Today, Lincolnville has blended its history as St. Augustine's most prominent post Civil War black neighborhood into a quaint, yet aging, community of homes, buildings, and churches clinging to their original authentic Victorian-era grace.
Within its 45 block perimeter, Lincolnville is home to the highest concentration of Victorian buildings in St. Augustine. Revitalization has begun drawing up sides, but regardless, Lincolnville's architecture remains a thing of beauty which has been lovingly and painstakingly captured in the works of two local artists – painter, Joe Taylor and photographer, Larry Carnes – whose close friendship was forged at Valdosta State College more than forty years ago.
Joe will celebrate his 70th birthday in November. He is an impressive powerhouse of energy and passion for his craft. A visit to his Elkton address is almost like stepping into a painting itself – meandering over cobblestone paving, through lush foliage and on to a unique scattering of rustic structures making up his personal compound. Joe's love of nature is evident from every angle, including the massive web where his resident banana spider, Bruce, hangs unapologetically near his door.
Joe's studio is a remarkable collection of rooms where framed paintings lean carefully against one another and the smell of oils wafts thinly through the air. His easel is fixed in a small sunny alcove behind glass doors which adjoin to yet another room of canvas treasures. Joe shows his paintings with an unexpected modesty and describes each subject as he recalls the sentiments that captured his interest and engaged him to paint. Amid his prolific Lincolnville paintings are others of equal beauty and interest – particularly the portraiture of his wife Gloria which spans decades, as well as paintings of the numerous banjos and fiddles which he has fashioned by hand in his wood shop. Joe's home is a continuation of his love of art where every square inch is graced by paintings and original artworks and even antique furnishings and fixtures – many of which were hand made by Joe and his wife. If ever the words art museum fit – it's here.
Larry is an affable and interesting artist of a different sort. Software developer by trade with an MBA, Larry dabbled in photography until the digital age got him really excited to explore how technology and art can combine to produce a unique hybrid. Larry explains, "Why does the photography have to stop at the printing of a picture? Why can't we interpret the picture and tone it differently, detail it differently, and make something that's our perception of it, just like an artist would do. I call it Enhanced Photography."
Larry's approach includes photographing an image three or four times at different exposures. Then the images are digitally layered and enhanced using the latest software technology available. After the enhanced image is ready it is printed on Archival paper or canvas using archival vivid pigmented inks. A selection of Larry's work is on permanent display at the Harbor View Cafe in St. Augustine. Larry also flies his own plane and shoots aerial photography in addition to booking event photography, doing photo restorations, wall murals, product illustration, and more.
You are invited to experience these two distinct mediums – oil painting on canvas and wood and enhanced digital photography – each bringing the neighborhood of Lincolnville to life through the vivid perspective of two enormously talented artisans.
"Welcome to Lincolnville" is not only a tribute to a beautiful and enduring piece of our national fabric, but also a year-long collaboration and labor of love gifted to St. Augustine by Taylor and Carnes.
The Cyprian Center offers and supports programs in visual, lively and expressive arts to enhance personal and community spirit.

Located in historic Lincolnville, The Cyprian Center for Expressive Arts is a place where people throughout St. John's County and beyond can come together to participate in and enjoy all forms of artistic expression. The Center offerings include music, painting, photography, quilting, mosaics, film studies and dance classes. The Cyprian Center also sponsors the Candlelight Jazz Vespers which is held on the third Sunday at 5:30 p.m. in St. Cyprian's Church.
by Alixandra Hice
Share your thoughts with our readers >>