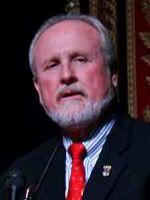 A delegation from St. Augustine's sister city of Aviles, Spain, will be visiting this week in conjunction with the annual celebration of Founder Pedro Menendez' birthday.
Aviles Vice Mayor José Fernando Díaz Rañón and Roman Antonio Alvarez, Councilman for Culture and Sports, will be here for the birthday festivities as part of their annual visit to St. Augustine and to attend a 9:30 a.m. meeting at the Government House on Saturday, February 27th.
Although two or more city commissioners may attend the Saturday morning "City-to-City" meeting, only one – likely Mayor Joe Boles – will be taking part in the discussion.
City commissioners wrestled with the state's public meetings law at last night's City Commission meeting; deciding the intercity meeting will be publically noticed but not deemed an official city meeting.
By law, the public should be notified "if two or more commissioners might be attending an outside meeting," City Attorney Ron Brown said. "Legal notice is required if those commissioners are going to participate in an outside meeting."
The procedure is designed to avoid even informal discussion of topics that may later go before the commission for action.
Share your thoughts with our readers >>