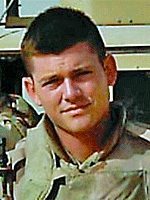 From Kuwait this morning, Historic City News received an announcement from St. Johns County Commissioner Mark P. Miner announcing his endorsement of candidates in the upcoming elections.
"I was initially hesitant to get involved in this election cycle given my current situation," Miner said.
Miner is on a temporary leave of absence while deployed with the 2-124th Infantry of the Florida Army National Guard in support of Operation Iraqi Freedom.
"However, my passion for the success of my community, my state and my Country has driven me to share with my friends back home the candidates who I believe are running for the right reasons and with the best plans for our future," Miner wrote. "We are facing great challenges ahead at the local, state and federal levels. These are the public servants who can lead us forward."
– Ron Sanchez for St. Johns County Commissioner District 2
– Jay Morris for St. Johns County Commissioner District 4
– Doug Conkey for Clay County Commissioner District 2
– Bill Proctor for Florida House District 20
– Will Weatherford for Florida House District 61
– John Thrasher for Florida Senate District 8
– Adam Putnam for Florida Commissioner of Agriculture
– Bill McCollum for Governor of Florida
– John Mica for U.S. Congress District 7
– Marco Rubio for U.S. Senate
For twelve months, Miner served as an Infantry Rifleman on Task Force Baghdad, and, in 2004-2005 as a volunteer from Florida with the Louisiana National Guard's 256 Brigade Combat Team.
Miner, now 27, was elected to represent District 3 of St. Johns County in 2008, with a four year term lasting until 2012. At the age of 25, he was the youngest Commissioner ever elected to serve St. Johns County.
More information on Commissioner Miner and the candidates he supports can be found at MarkPMiner.com.
Share your thoughts with our readers >>