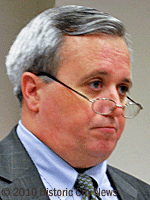 St. Johns County Sheriff David Shoar wants to tell Historic City News readers that, for the next several months, you may see some deputy sheriff's sporting stubble on their faces.
This isn't a new fad, but a fundraiser within the Sheriff's Office for the March of Dimes.
For the fourth year in a row, Sheriff Shoar, the March for Babies Chair Emeritus, has allowed employees to sport beards with a donation of $50 each to the March of Dimes.
Last year 51 deputies and civilians grew beards raising $2,550 for the March of Dimes. So far this year, 110 folks have signed up raising $5,500 for the campaign; with more signing up every day.
The only requirement established for the beards is that they shall be neatly trimmed.
The March of Dimes WalkAmerica campaign has been renamed "March for Babies".
"Our mission is working towards the day when every baby is born healthy," said Sheriff Shoar. "We hope to bring many more people on board to help make that day a reality."
Shoar added, "It's important to me that all babies get a healthy start. Please join me and be one of the hundreds of compassionate people who participate in March for Babies every year. With our support, there's hope."
In St. Johns County, the March for Babies will take place this Saturday, November 6th 2010 at 9:00 a.m. at the Florida School for the Deaf and Blind.
To sign up for this year's march or for additional information, call (904) 398-2821.
The fundraiser will continue through January 31st.
Share your thoughts with our readers >>