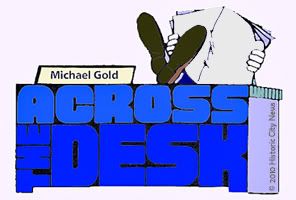 As news stories persist and weekly bridge malfunction updates are coming out from Laurie Sanderson with the Bridge Rehabilitation Program, you have to ask yourself "What did we save?"
Sanderson said in a press release that she was expecting some kinks — but not this many.
Of course the ardent advocates for preservation will tell you that the continually growing expense, years of inconvenience and aggravating traffic bottlenecks are all worth the cost — because, after all, we "saved" a bridge that was built in 1927.
During a meeting Thursday, city leaders met with bridge engineers to go over the problems that have been documented with the new-old bridge since it reopened in March. At least 78 malfunctions have been recorded and many of those break downs have caused lengthy traffic delays.
Almost immediately after opening the new-old bridge, SKANSKA began tearing down the old-new bridge — since the draw had already been committed to another project and the city had an eye on recycling the concrete structure into shoreline fortification for the old Riberia Street landfill.
In any event, planners and bridge contractors gave up our safety net as soon as they started ceremoniously pushing dignitaries and antique cars across the Bridge of Lions (or, at least where lions will one day return).
It appears that some people may have forgotten that it's not 1927 anymore. The current interchange patterns, increased maritime traffic, and increased loads on the bridge and demands on the draw were never contemplated back in the day when an eighty-year useful life for a bridge would have been considered "good".
Instead of re-evaluating and updating the design to comply with our needs in 2010 and beyond, we just rebuilt what seemed adequate eighty-three years ago; because it looked pretty on a picture postcard.
In the real world, twenty-first century difficulties ranging from faulty navigation lights to broken gates on the pedestrian crosswalk are adding insult to injury.
In a televised story on local news station WJXT, a St. Augustine resident, Scott Curry, said, "They rebuilt it, and cosmetically it looks good, but it didn't do anything to help out the problem in St. Augustine when it comes to all the traffic." Curry went on to say, "Most days, it's a lot faster to ride a bike over the Bridge of Lions than drive a car."
All the headaches leave residents like Curry wondering, "What's so new about the new Bridge of Lions?" Curry said that he was in St. Augustine for the old bridge and it's the same exact problem now. "Nothing new," he said.
What do they call it when you keep doing the same thing over again — expecting to get a different outcome?
Share your thoughts with our readers >>