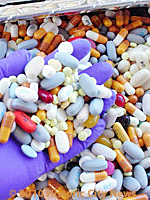 A Palm Coast couple who traveled to Orlando together to fill a prescription for the narcotic pain reliever Oxycodone, parted ways after an argument at an area bank according to a police report received by Historic City News today.
Oxycodone is a powerful analgesic derived from opium and is similar in strength to morphine. The drug is highly abused because of its euphoric effect and widely prescribed use as a pain killer.
Deputies responded to the Bank of America on Palm Coast Parkway around 7:20 p.m. last night after a woman reported being robbed of her prescription pills.
The victim told deputies that she and her companion returned from filling the prescription at an Orlando drugstore. The victim had promised to give half the pills to the man, but when the two stopped at the bank's ATM, the man allegedly pulled out a box cutter, took the pills and the woman's vehicle.
The vehicle was later returned to the parking lot by an unknown woman.
The investigation is ongoing. Deputies are still looking for the man.
"Flagler County is starting to feel the residual effects of the pill mills in larger cities. Our youth, young adults and our population at large are finding it easier and easier to obtain these narcotics. We as a community need to take a proactive approach to keep these clinics out of our county. They bring with them crime and dependency which shatters lives," said Sheriff Donald W. Fleming.
Sheriff Fleming has asked the Flagler County Commission to put a moratorium on allowing pain clinics into the county until some controls can be put into place.
Photo credit: © 2010 Historic City News contributed photograph
Share your thoughts with our readers >>