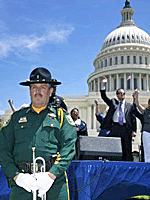 Last Tuesday, local reporters at Historic City News were on hand as law enforcement officers who died in the line-of-duty were honored during a ceremony at the St. Johns County Sheriff's Office during National Police Week.
National Police Week commemorates slain officers from around the country whose lives were lost in service to their communities — as well as the loss to their family members, friends and fellow officers.
Lieutenant John Donlon, Community Services and Traffic Unit Commander, had the honor of playing taps at this year's national memorial ceremony on Saturday in front of the U.S. Capitol in Washington, D.C.
Donlon, who began with the Sheriff's Office as a Corrections Officer in 1983, has played the trumpet for 43 years and has performed taps at hundreds of funerals. He has also played at the Law Enforcement Memorial Wall on two occasions, however, this was the first time he was selected to perform at the National Memorial Ceremony.
This year, the names of 324 officers killed in the line of duty were added to the memorial and includes 116 officers who were killed during 2009, plus 208 officers who died in previous years but whose stories of sacrifice had been lost to history — until now.
Share your thoughts with our readers >>