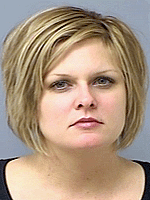 A woman at the wheel of a car that rear-ended a patrol car in St. Augustine has been arrested by police and taken to the St. Johns County Detention Facility, charged with careless driving and driving under the influence alcohol – with property damage.
The driver, 33 year-old Renee Sheridan Birchall, who resides on South A1A in St. Augustine Beach, has been released from custody after posting a $500 appearance bond.
According to affidavits from officers on the scene, the crash occurred on SR-312 at the intersection with Santander Road at about 2:26 a.m. this morning. The arresting St. Augustine Police officer said that Birchall drove her 2002 Subaru Station Wagon into the rear-end of St. Augustine Beach Police officer Gary Hartshorne.
Birchall failed a field sobriety test and agreed to take a breath alcohol test. At about 4:00 a.m. this morning, when the test was administered at the county jail, Birchall's blood alcohol level tested .232
Neither driver reported any serious injuries. Birchall declined medical care at the scene and Officer Hartshorne drove himself to Flagler Hospital to be checked for a headache.
The woman's car had about $9,000 in damage to its front end. The patrol car had an estimated $1,500 in damage to the rear.
Share your thoughts with our readers >>