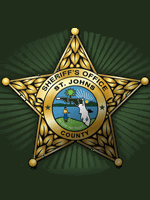 Deputy J.D. McGinnis, who is handling the investigation of the single vehicle crash on Durbin Creek Boulevard last night, updated local Historic City News reporters this morning on the status of the victim and his examination of available evidence.
When members of the St. John's County Traffic Crash Response Unit arrived on the scene, they discovered one occupant in a 2009 Toyota sedan that had been traveling northbound on Flora Branch Boulevard when the driver left the roadway as it approached the intersection with Durbin Creek Boulevard; for a still unknown reason.
The driver, 38 year-old Donna Gayle McCulloch was flown from the scene and is listed in critical condition at Shands Hospital in Jacksonville.
McGinnis is conducting a preliminary Traffic Homicide Investigation.
"The driver over-corrected, crossed over the roadway, and struck a tree and power pole," Deputy Quentin Beckton first reported. "Power was knocked out in the area due to the crash."
"The cause of the crash is still under investigation, though alcohol is not believed to be a factor," McGinnis reported. "McCulloch was wearing her seatbelt at the time of the crash."
Share your thoughts with our readers >>