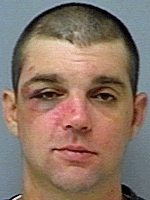 Early Friday morning, a police scuffle downtown during a DUI traffic stop, winds a 32 year-old Elkton man in jail — by way of a trip to the hospital.
Richard Edwin Booth, who resides at 3332 Ninth Street in Elkton, had been observed earlier in the evening by police outside of the Trade Winds Tropical Lounge. According to a witness statement, Booth "appeared extremely intoxicated; stumbling around on the sidewalk."
Booth had been asked to leave the Trade Winds and a taxi was called because, according to one witness, "Booth could barely walk."
Shortly after 12:15 a.m., Booth was again observed by police — this time in the area of 19 San Marco Avenue, behind the wheel of a tan, 2008 Ford F-250 truck.
When police stopped the truck, Booth got out and was ordered to get back into his vehicle. According to police, Booth did not comply. Booth was said to have one hand concealed in his shorts and was ordered by officers to show both of his hands, again, police say Booth refused.
Officer Tucker attempted to secure Booth, however, a fight ensued. Booth was struck with a Taser and taken into custody, then off to Flagler Hospital Emergency Room for treatment of minor injuries. Blood was taken from Booth at the hospital, the results of a test for blood-alcohol level was not yet available.
Taken from Booth before he was transported to jail were a pair of brass knuckles and a wooden police-style nightstick.
Booth was charged with felony resisting an officer, driving while license suspended and driving under the influence. Booth was released the following day under a total appearance bond of $8,500.
Share your thoughts with our readers >>