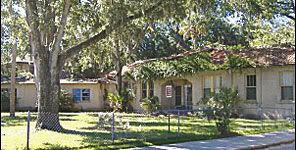 In local St. Augustine news, the historic Echo House in Lincolnville is a major step closer to becoming a School of Excellence following last week's transfer of the property from its board of trustees to St. Paul AME Church.
St. Paul Pastor Ron Rawls, whose community team has been planning the school, said he also received news last week that Apple Corporation will donate 25 new computers, and a curriculum grant has been confirmed.
Rawls said the property's main building will be named for Dr. Rudolph N. Gordon and Mrs. Rosalie Gordon-Mills, in recognition of their years of support for the property. The southerly and rear buildings will be named later, he said.
Echo House was originally built in 1926, a gift of Dr. Andrew Anderson, and in the 1950s was the Buckingham Smith Home, serving indigent members of the black community.
The School of Excellence is scheduled to begin with a kindergarten class this fall in the church parsonage. Classes will move to the restored facility next year.
The church hopes to raise an estimated $617,000 to restore the property.
The school's advisory board meets at 5:30 p.m. March 25th at St. Paul Church.
Share your thoughts with our readers >>