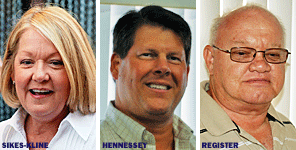 Historic City News readers who are voters in the City of St. Augustine will face one City Commission race in the August 24th Primary — then two, or three, more on November 2nd as Elections 2010 gets underway.
City Commissioner Nancy Sikes-Kline faces two opponents in the primary — Chuck Hennessey and Dutch Register. The Primary Election will decide the two candidates for the November General Election; unless one of the three is automatically elected by earning more than 50 percent of the vote.
In November's General Election, incumbent Mayor Joe Boles is challenged by Don Heine. Two candidates seek retiring Commissioner Don Crichlow's seat – Bill Leary will face Historic City News editor, Michael Gold.
Three of the City Commission's five seats are up for election every two years – the mayor, who has a two-year seat, and two of the four commissioners.
Photo credits: © 2010 Historic City News staff photographer
Share your thoughts with our readers >>