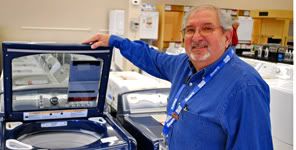 Local Sears Hometown Store owner Jack Bunch announced to Historic City News reporters that Florida residents can access $17,585,000 in rebates available as part of the state's "Cash for Appliances" rebate program.
The consumer rebates are available for the purchase of ENERGY STAR®-qualified appliances from April 16th until April 25th, or until funds are exhausted.
"This rebate money will go quickly," Bunch said. "We encourage our customers in St. Augustine to take advantage of the stimulus plan as early as possible to ensure access to the state funds."
The Florida Energy and Climate Commission has a website that outlines the state sponsored rebates.
Under the U.S. Department of Energy-approved appliance rebate plan for Florida, residents purchasing ENERGY STAR-qualified appliances are eligible for rebates of up to 20 percent off the below appliances.
— Dishwashers
— Clothes washers
— Refrigerators
— Freezers
— Room air conditioners
— Gas tankless water heaters
In Florida, residents are also eligible for an additional $75 in rebates with documented recycling of their old appliances.
"Sears is proud to be the only retailer in the U.S. Environmental Protection Agency's Responsible Appliance Disposal (RAD) program, continuing our commitment to improving the environment through responsible appliance disposal," Bunch said. "Not only are we helping the environment by reducing emissions of ozone-depleting substances and greenhouse gases, but we are also helping customers, like those in Florida, access greater rebates through recycling."
Sears, Roebuck and Co. is the 2010 ENERGY STAR Retail Partner of the Year. You can see rebate offer details, requirements and limitations at any Sears Home Appliance retail location.
Photo credit: © 2010 Historic City News staff photograph
Share your thoughts with our readers >>