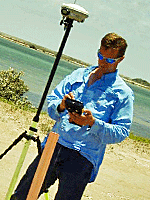 Local Historic City News reporters have learned that the United States Army Corps of Engineers has contracted Lowe Engineers of Atlanta to conduct survey work on St. Johns County beaches until the end of October.
The surveyors will be accessing all 41 miles of beach to complete the work on ATV's and trucks.
Per requirements of the County's Habitat Conservation Plan (HCP), the workers have attended HCP training and obtained a permit from the Habitat Conservation Section of the Environmental Division.
The survey crews will abide by the following rules:
-Surveyors cannot enter the beaches prior to 8:00 a.m. and must be off by 7:30 p.m.
-Surveyors cannot drive on vegetation or in sand dunes; however, they will be walking in dunes to obtain GPS coordinates for purposes of the survey project.
-Surveyors, who are driving on north beaches, must drive on the wet portions of sand only; 15 feet away and seaward of sea turtle nests.
-Surveyors, who are driving on south beaches, must do so only in the driving lane.
All driving in the Conservation Zone is prohibited to surveyors.
Photo credits: © 2010 Historic City News staff photographer
Share your thoughts with our readers >>