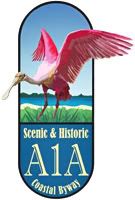 Local news reporters in St. Johns County have been informed that Friends of A1A Scenic and Historic Coastal Byway will hold their first ever Environmental Education Fair on May 1st at Marineland.
The event, which is free and open to all, will be from 8:30 a.m. to 4 p.m. at the University of Florida Whitney Labs on the west side of SR A1A in the Town of Marineland. The event is expected to draw 500 persons, ranging from environmental advocates to families and children.
"Sponsors, vendors and exhibitors are encouraged to attend the event and support the scenic and historic byway that will inspire and educate the community about our coastal environment," said Sallie O'Hara, the Friends of A1A's Administrator. "This is a way for local businesses to lend their support to the many community residents who will be attending and it will also draw visitors that support the local economy."
The Environmental Education Fair is a full day of free workshops, activities, exhibits, vendors and entertainment connected with the coastal environment. Activities will include 12 indoor and in-the-field workshops, at least 40 exhibitor and vendor booths, science fair projects, environmental activities, storytelling, face-painting and music.
The Friends of A1A wants to thank the sponsors who have already committed to support the Environmental Education Fair. They include: The Dolphin Conservation Center, WNZF and Beach 92.7 in Flagler, WFOY and ESPN Sports Radio in St Augustine, UF Whitney Lab, the Hammock Beach Resort and the Black Raven Pirate Ship. This event is also sponsored, in part, by funding from the Florida Coastal Management Program (FDEP) and National Oceanic & Atmospheric Administration (NOAA).
Space is still available for sponsors and vendors; however, the vendor space is limited and is based on a first come, first paid basis. The deadline to become a sponsor is April 1, 2010 and the deadline to become a vendor April 15, 2010.
For more information about the Environmental Education Fair and how to become a sponsor, exhibitor or participant, please call the Friends of A1A at 904.425.8055 in St. Johns County or 386.585.3679 in Flagler County.
Friends of A1A is a non-profit organization that implements the corridor management plan for improvements along the 72-mile Scenic & Historic Coastal Byway through St. Johns and Flagler counties.
Share your thoughts with our readers >>