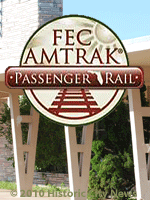 Historic City News reporters have learned that during a staff presentation relevant to the Amtrak-FEC rail project, members of the City Commission will be briefed on the status of the proposed passenger train station the City hoped would be built at Carrera Street and Ponce de Leon Boulevard.
Plans for the Carrera Street train station ran into a snag when the location appeared to present environmental and construction issues that included laying additional track and possible widening of the bridge over the San Sebastian River — all of which could delay or jeopardize the entire 351 mile project.
One suggestion that would avoid delays and added construction costs is to re-establish passenger train service using the FEC station, already in existence, on North Ponce de Leon Boulevard. Soon, passengers could be checking and claiming baggage or waiting on the next train passing through town.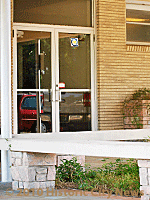 Kim DeLaney, Growth Management Coordinator for the Treasure Coast Regional Planning Council, has already announced a public workshop to review the findings of the station location evaluations for the future Amtrak station in the St Augustine area.
The Amtrak-FEC rail project is intended to reintroduce passenger transit on Amtrak, utilizing the FEC Corridor from Jacksonville to West Palm Beach, with service continuing south to Miami, with a total of eight new stations: St Augustine, Daytona Beach, Titusville, Cocoa, Melbourne, Vero Beach, Fort Pierce, and Stuart.
The proposed new service would consist of two northbound and two southbound trains per day.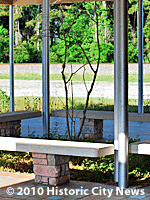 The regular meeting of the City Commission is scheduled for Monday, June 14th at 5:00 p.m. in the Alcazar Room within St. Augustine City Hall located at 75 King Street.
The public workshop is scheduled for Wednesday, June 16th at 11:00 a.m. in the Alcazar Room within St. Augustine City Hall located at 75 King Street.
Government TV will broadcast the meetings on Comcast channel 3.
Photo credits: © 2010 Historic City News staff photographer
Share your thoughts with our readers >>