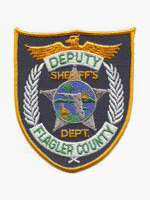 Public Information Officer Debra Johnson told local reporters with Historic City News that, at about 7:00 p.m. last night, Flagler County deputies were on the scene and the St. Johns County bomb squad was enroute to the Dry Lake area of Seminole Woods — following reports of an explosion.
When first reported, we learned that the Flagler County Sheriff's Office had detained four individuals. It was unclear at the time of the report whether or not a terrorist cell had been uncovered.
Seven homemade explosive devices were found at the location; however, no homes or residents were endangered, according to Johnson.
"There are no homes in the immediate area and the scene has been secured," Johnson said. "More information will be released as it becomes available."
At about 7:25 p.m., Historic City News was informed that "one person is being charged in connection with the event."
We were told at that time, the other three that were being detained would be issued "notices to appear" to answer misdemeanor charges.
The bombsite was not made accessible to the public.
Final word last night came at 9:58 p.m. when Johnson updated us to say that "the Flagler County Sheriff's Office has a Daytona Beach man in custody with charges pending."
Two females, one from Ormond Beach and the other from South Daytona, and a male from Palm Coast, "have been issued notices to appear for trespass," Johnson said.
To everyone's relief, the Sheriff's spokesman confirmed that it was determined at that time that this incident is not "terrorist related".
Johnson told Historic City News, "Law enforcement officers are on the scene and an investigation is ongoing."
Share your thoughts with our readers >>