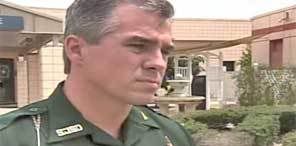 Sgt. Chuck Mulligan, Public Information Officer for the St. Johns County Sheriff's Office, reported to Historic City News that an investigation is underway into an apparent fraud which occurred yesterday morning.
A St. Augustine man informed investigators of a phone call he received early Friday morning after his son was arrested on a drug possession charge. The victim told investigators that a man impersonating a representative of the Sheriff's Office, left a message and telephone number for him along with instructions to call "Captain Osteen" in Tallahassee with regard to his son's recent drug arrest.
The victim responded; leaving his name and telephone number — the call was promptly returned.
The imposter, who identified himself as "Captain Osteen", stated that he had already registered his son into a drug rehabilitation program and needed $650.00 to complete the process. The victim was provided a bank account number where he was to transfer the money; the victim complied.
According to Mulligan, local investigators surmise that the perpetrators of this scheme are finding potential victims by monitoring public Internet websites where arrest information is reported. "Because of the prompt contact with the arrestee's father and additional details presented to the investigators," Mulligan told us, "the perpetrators are likely searching online for family members to commit this fraud."
Sheriff David B. Shoar told Historic City News that law enforcement agencies do not solicit funds for incarcerated subjects. "Should you receive a call similar to this, you should contact your local law enforcement agency to verify their process."
"This scheme is a nothing more than a variation of similar schemes involving information taken from publically available sources," said Michael Gold, a licensed private detective and editor of Historic City News. "I've seen it happen with information garnered from birth notices, obituaries, reports of automobile accidents — you name it, it has been done before."
In an abundance of caution, Shoar temporarily suspended the jail log search feature of his agency's website. "The feature will probably be restored soon," Mulligan said. "We'll do an internal review of the process to be sure we are doing all the things that we can to protect against abuse — while still complying with the requirements of Florida's open record laws."
Share your thoughts with our readers >>