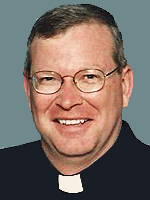 Father Thomas S. Willis, pastor of Cathedral Parish, has announced the times for services for the Feast of the Triumph of the Holy Cross to local reporters at Historic City News.
The Cathedral Basilica of Saint Augustine has scheduled the celebration of Evening Prayer for this feast on Tuesday, September 14th.
The special liturgy will begin at 7:00 p.m. and is open to the public.
The Feast of the Triumph – or Exaltation – of the Holy Cross celebrates the centrality of the cross in Christianity. During the liturgy, those who attend will be invited to come forward to venerate the cross.
This gesture acknowledges one's dependence on the cross of Christ for salvation and expresses the Church's gratitude for the blessings of the cross to all.
At the liturgy, during the veneration of the cross, the ancient hymn Vexilla Regis will be sung.
This ancient chant dates from the mid-6th century and is considered one of the greatest hymns of the Christian liturgy.
Historically, this feast recalls the finding of the true cross in 326 A.D. by the Empress Helena.
Jerusalem's Church of the Holy Sepulchre was built over the sites of Jesus' crucifixion and resurrection and was dedicated on September 13, 335.
On the following day, the relic of the true cross was brought out for veneration by the faithful.
The feast was firmly established in the 7th century.
The Cathedral Basilica of Saint Augustine is located at 38 Cathedral Place across from the Plaza de la Constitucion.
Share your thoughts with our readers >>