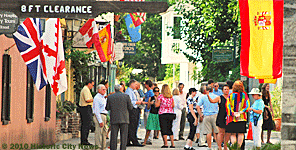 The Mayor and City Commissioners attended a small gathering of people including several City department heads, City Manager John Regan and former City Manager Bill Harriss to mark the Fiesta de Aviles and the ceremonial start to a much needed facelift for one of the oldest documented streets in St. Augustine.
Rev. Dr. David J. Weidner, Rector at Trinity Episcopal Parish, and facilitator needed to make the restoration and re-design of the Aviles Street gateway happen, was called on to open this morning's ceremony with an invocation.
Trinity Parish owns the property often referred to as the Woolworth Building that faces onto King Street and runs the west side of Aviles Street between King Street and Artillary Lane; including a few boutique-size storefronts that open onto Aviles Street.
A major component of the Aviles Street redesign is the widening of the sidewalk to allow for outside dining. In order to accomplish that, the merchants, and others supporting the project, were required to replace the several spaces that would be lost in the process.
Through a negotiated agreement between the City, Weidner and the Vestry of Trinity Parish, a vacant lot on the corner of Artillery Lane and St. George Street will be made available for public parking and will be refit with City operated parking meters. The revenue from the meters will be shared between the church and the City.
David M. Pupkiewicz, Senior Project Manager with Winter Garden based Gibbs & Register, working in their Orange Park office, told Historic City News Editor Michael Gold that City Archeologist Carl Halbirt has completed his excavation and examination of the area and released the street for construction which will begin next week.
Martha Graham, P.E., Director of Public Works for the City of St. Augustine, stated that although construction will be in progress, the street will remain open to pedestrian access for the duration of the project. Gibbs & Register estimates the completion to be within 60 days.
Several shop owners are participating in sale events and promotions today and will be open late this evening in celebration of the much anticipated facelift.
Photo credits: © 2010 Historic City News staff photographer
Share your thoughts with our readers >>