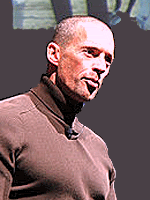 Local news reporters learned that Flagler College will be hosting their fifth annual Communication Week beginning Monday, March 22nd through Thursday, March 25th.
This year, the Flagler College Communication Department is thrilled to have Kevin Sites, award-winning journalist and author, as the keynote speaker.
As Yahoo!'s first news correspondent, Sites covered global war and disaster from 2005 to 2006. In 2006 Sites won the 2006 Daniel Pearl Award for Courage and Integrity in Journalism. In addition, Forbes Magazine listed him as one of 2007's Web Celeb 25, "the biggest, brightest and most influential people on the web today." Just two years ago Sites was inducted into Northwestern University's Medill Hall of Achievement.
Recently, Sites has been named a 2010 Nieman Foundation Journalism Fellow and is residing at Harvard University in Cambridge, MA. He is currently working on his second book, The Things We Cannot Say: What the World's Warriors Can't Tell You About What They've Seen, Done or Failed to Do in War, which will be released this year.
"The background and experiences of veteran war correspondent Kevin Sites are nothing short of extraordinary," said Rosemary Tutt, Assistant Professor of Communication and faculty coordinator for Communication Week 2010. "Students in all areas of study are anxiously awaiting his arrival. We anticipate his presentation to be truly memorable."
Prominent feature speakers attending Flagler College Communication Week include Alfredo Corchado, Allen Olivo, Connie Schultz, and Robbie Gordon. With different areas of expertise, including public relations, journalism, and broadcast, the speakers will have a lot to share with the students at Flagler College.
"Communication Week provides each student with an opportunity to talk face-to-face with nationally prominent professionals relevant to their area of study. Students get a current snapshot for the workplace as it exists directly from the people holding positions that every student aspires to. If I had to sum up Communication Week in one word it would be opportunity," said Communication Department chair, Tracy Halcomb, Ph.D.
As sponsors for Communication Week, Flagler's Communication Department and the Flagler College Chapter of the Public Relations Student Society of America are looking forward to a great turnout and a wonderful opportunity to connect to success with these experienced professionals.
Share your thoughts with our readers >>