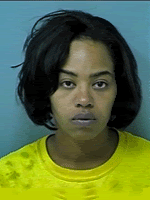 The St. Johns County Sheriff's Office has arrested a 30 year-old woman on Arson charges stemming from a verbal domestic dispute, which escalated into an arson incident reported by Historic City News earlier today.
The suspect, identified as 30 year-old Lovy Adrianne Parker, who resides at 1042 Bruen Street, was arrested early Thursday afternoon and charged with Arson while persons are present; a first degree felony.
According to investigators, the victim was asleep in the residence when he awoke to heavy smoke in the home. He told deputies at the scene, he located the fire and extinguished it and believed it had started from a candle which was burning in the house.
St. Johns County Fire Rescue arrived on the scene and discovered that the residence was still on fire and the fire may have originated from several areas within the residence.
St. Johns County Fire Marshall personnel along with a State Investigators determined the fire was started in four locations within the kitchen, the living room, and the bedroom.
The victim told deputies that Parker had left the residence prior to the fire and that they had been arguing.
Detectives located Parker and interviewed her at The Sheriff's Office. According to investigators, it is believed Parker started the fires to scare the victim and cause him to leave the residence.
Parker was arrested and booked into the St. Johns County Jail without further incident.
Share your thoughts with our readers >>