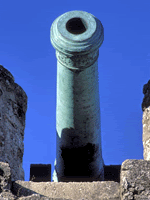 The St. Augustine local news desk has learned that a new law will take effect on February 22nd concerning the possession of firearms and ammunition in national parks.
The law repeals a National Park Service rule that has long prohibited Americans from lawfully possessing firearms in national parks for self-defense.
The new law, passed last spring by an overwhelming bipartisan vote in the U.S. Senate, will allow people to possess, carry and transport firearms in national parks, in accordance with state law.
However, many details remain to be worked out, according to the National Rifle Association of America, Institute for Legislative Action.
Reports indicate that National Park Service officials are debating issues such as the definition of "federal facilities" — where firearms remain prohibited under a different federal law.
For example, even with a Florida Concealed Weapons Permit (Class W) or a Florida Statewide Firearms License (Class G), it would be illegal to carry a firearm into the U. S. Post Office, or, a U. S. Federal Courthouse – both are federal facilities.
Possible points of contention might be your right to possess, carry and transport firearms into Castillo De San Marcos, or, Fort Matanzas since they are technically "monuments" and not "parks" — even though their employees work for the National Park Service.
NPS officials are expected to issue further information as February 22nd approaches, and some parks have already published information on their new policies. Because state laws vary greatly, before you visit a national park, you should check the park's website or call the park headquarters for more information.
Photo credits: © 2010 Historic City News photographer Kerry McGuire
Share your thoughts with our readers >>