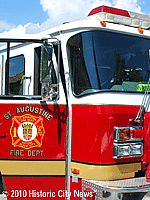 St. Augustine Fire Department Administrative Coordinator, JoLinda Brown, reported to Historic City News that just after midnight yesterday, Engine 44 and supporting officers responded to a major structure fire at Island House Rentals located at 400 Anastasia Boulevard.
The call came in to emergency dispatchers at 12:17 a.m. and City firefighters from Station 41 were on the scene within three minutes.
Fire Captain James G. Von Bretzel reports that upon arrival, heavy flames were showing on the second floor balcony; coming out of a rear door to an apartment.
While Engine 44 moved into position to attack the blaze, additional incoming City units positioned themselves at the opposite side of structure in order to assist in the attack and to lay line to the nearby fire hydrant. St. Johns County units responded and positioned themselves to assist in the apartment search.
The fire attack crew made entry to the apartment and began to extinguish the fire.
All other units began searching and evacuating the remaining apartments. FPL disconnected power to the building and Red Cross met with the tenants to provide assistance.
Within a short period of time, control of the fire was gained when a second attack line was put in place.
Firefighters on the scene began their overhaul of the premises. "City 2 began investigation and determined that the fire possibly started at the couch in the living room," officials said. "At this time, the cause of the fire is undetermined."
When the overhaul was complete, St. Augustine Fire Department personnel and building owner, William Pitzalis, assisted the tenants in making entry into their apartments so that they could retrieve any personal belongings.
An off duty St. Augustine Police officer responded to the scene and assisted in theft prevention.
Fire officials estimated damage to the building at about $250,000.
Almost three hours later, at 3:09 a.m., St. Augustine Fire Department personnel released the scene to the property owner.
Share your thoughts with our readers >>