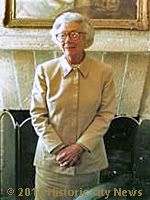 Local Historic City News reporters learned this morning that Mrs. James L. Wiley, the former Mary Lily Flagler Lewis, of Richmond, Virginia and Delray Beach, Florida died peacefully at her Richmond residence on May 28, 2010. She recently celebrated her 90th birthday.
Molly, as she was affectionately called, was the daughter of the late Lawrence Lewis and Louise Wise Lewis Francis. She was born in Saint Augustine, Florida and grew up in Kirkside, the mansion built by Henry Flagler next to Memorial Presbyterian Church.
Her mother was the niece of the late Mary Lily Kenan Flagler who married Henry M. Flagler in 1901. Louise Francis inherited Kirkside and another Flagler mansion named Whitehall, now the Henry Morrison Flagler Museum located in Palm Beach.
Mrs. Wiley is survived by two sons Lewis Pollard of Warrenton, Virginia and Nelson Pollard of Saint Augustine, Florida, and six grandchildren, from her marriage to the late Fred Pollard of Richmond, Virginia. Her husband, James L. Wiley, predeceased her, and she leaves two stepsons and a step daughter from that marriage.
For many years, Mrs. Wiley and her husband owned and operated Gordonsdale Farm in The Plains, Virginia, which is now owned by her stepson Lewis Wiley. She spent many winters at the Saint Andrews Club in Delray Beach and was an avid golfer, winning several club championships. She also maintained a summer home at the Greenbriar resort in West Virginia.
Mrs. Wiley and her late brother Lawrence Lewis, Jr., were part owners of the Flagler System Companies until the late 1970's; including The Ponce de Leon Motor Lodge in St. Augustine and The Breakers Hotel in Palm Beach. Together, Wiley and Lewis established Flagler College. Two buildings on the campus are named after Mrs. Wiley – the Molly Wiley Art Building and Wiley Hall.
Molly Wiley was a generous philanthropist during her life. She contributed to several other construction, renovation, and restoration projects on the Flagler College campus and established an endowed scholarship.
During the last ten years of her life, she was a Trustee of the William R. Kenan, Jr. Charitable Trust, based in Chapel Hill, North Carolina.
Photo credits: © 2010 Historic City News contributed photograph
Share your thoughts with our readers >>