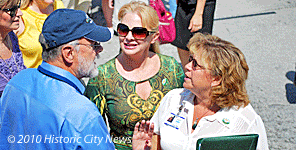 Judi Stetson, Director of Grants & Special Projects, asks Historic City News readers for grass-roots support from groups, clubs, media, businesses, citizens and anyone else available tomorrow to show support for a railroad stop in the Town of Bunnell.
"Flagler County has been overlooked for too long – it will take a unified effort to make this happen," Stetson said.
When Amtrak makes it Inspection Passenger Train run tomorrow, although it will be stopping in Daytona Beach and St. Augustine, it will not be stopping in Flagler County.
Stetson told us, "We need a show of support for the 95,000+ businesses and citizens that would benefit by a train stop here."
The reason there is no stop planned in Flagler County is because there was no stop when Amtrak proposed the concept ten years ago, according to Scott Seeburger, a special projects manager for the Florida Department of Transportation.
"It's too late now to add another station and still meet the deadline for submitting an application for the $268 million in federal funding needed for the project," Seeburger said.
The deadline is expected to be in mid-July.
The good news is that new passenger trains could be running in as little as three years.
According to Seeburger, "Palm Coast, Bunnell and Flagler County could be added during a second phase. We get the system in place; get it moving along, and then we can start dealing with other communities and building a justification for them."
If you are interested, a citizens group will meet at the corner of Palm Street and North Railroad Street in Bunnell between 3:00 p.m. and 4:00 p.m. to wave flags, display banners, blow horns and flash lights in order for their voice to be heard.
Photo credit: © 2010 Historic City News staff photographer
Share your thoughts with our readers >>